Vaping enthusiasts, brace yourselves for the next generation of vaping technology! The VIVANT MAGNETO 510 thread battery is here to revolutionize your vaping experience. This innovative device combines style, discretion, and convenience, boasting a hidden cartridge compartment and a magnetic connection. Let's delve into the features and specifications of this sleek and powerful device.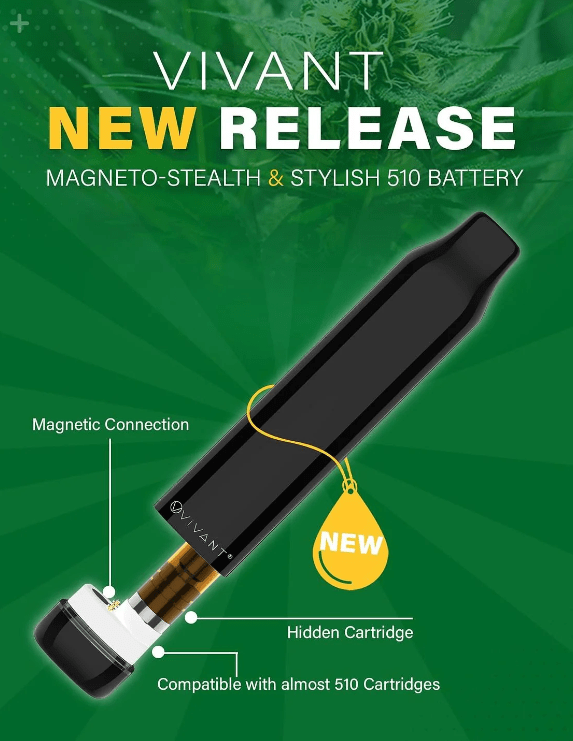 Sleek Design with a Hidden Cartridge Compartment:
The VIVANT MAGNETO showcases a sleek and stealthy design that catches the eye with its minimalist aesthetic. One of its standout features is the hidden cartridge compartment, ingeniously concealed within the battery. The discreet placement ensures that the cartridge remains protected and undetectable, providing a seamless vaping experience.
Magnetic Connection for Effortless Convenience:
Gone are the days of struggling with threading cartridges onto the battery. With the VIVANT MAGNETO's magnetic connection, attaching and detaching the cartridge is a breeze. The magnetic connection provides a secure fit, preventing accidental detachment during usage, while allowing for quick and hassle-free cartridge swaps.
Advanced 510 Thread Battery for Versatility:
Designed with compatibility in mind, the VIVANT MAGNETO utilizes a 510 thread battery. This industry-standard connection allows you to use a wide range of cartridges, providing you with the flexibility to explore various vaping options. Whether you prefer oils, extracts, or e-liquids, the VIVANT MAGNETO has you covered.
Effortless Operation with Auto Draw:
Say goodbye to buttons and complicated settings. The VIVANT MAGNETO features auto draw functionality, eliminating the need for manual activation. Simply inhale, and the device will instantly deliver a smooth and satisfying vapor hit. This user-friendly design makes the VIVANT MAGNETO an ideal choice for both seasoned vapers and beginners alike.
Impressive Specifications:
The VIVANT MAGNETO boasts a compact size, measuring 1102315mm, ensuring easy portability for on-the-go vaping. With a battery capacity of 320mAh, you can enjoy prolonged vaping sessions without frequent recharging. The constant voltage of 3.6V guarantees consistent and reliable performance, delivering a satisfying vape every time. The atomizer diameter of 11.5mm ensures compatibility with most standard cartridges. Additionally, the Type-C charging port enables faster charging times, while the device's resistance of less than 0.8Ω ensures optimal vapor production.
Enhanced Safety Features:
The VIVANT MAGNETO prioritizes your safety with its built-in charging protection. With a maximum of 25W quick-charge protection, you can enjoy fast and efficient charging without worrying about overcharging or overheating. The device's lightweight construction, weighing in at just 26g, adds to its portability and ease of use.
Conclusion:
The VIVANT MAGNETO 510 thread battery with a hidden cartridge inside by magnetic connection represents the future of vaping technology. With its sleek design, effortless operation, and advanced features, this device offers an unparalleled vaping experience. Say goodbye to cumbersome threading and hello to the convenience of magnetic attachment. Upgrade your vaping game and indulge in the world of discreet and powerful vaping with the VIVANT MAGNETO.