The Lookah Giraffe is the newest addition to the Lookah 510 vape battery collection, and I couldn't wait to get my hands on it. As soon as I received the email notification, I placed my order for this intriguing device. Priced at $59.99, the Lookah Giraffe offers a distinctive design that sets it apart from other vaporizers. In this review, we will explore the selling points, how-tos, and the pros of the Lookah Giraffe.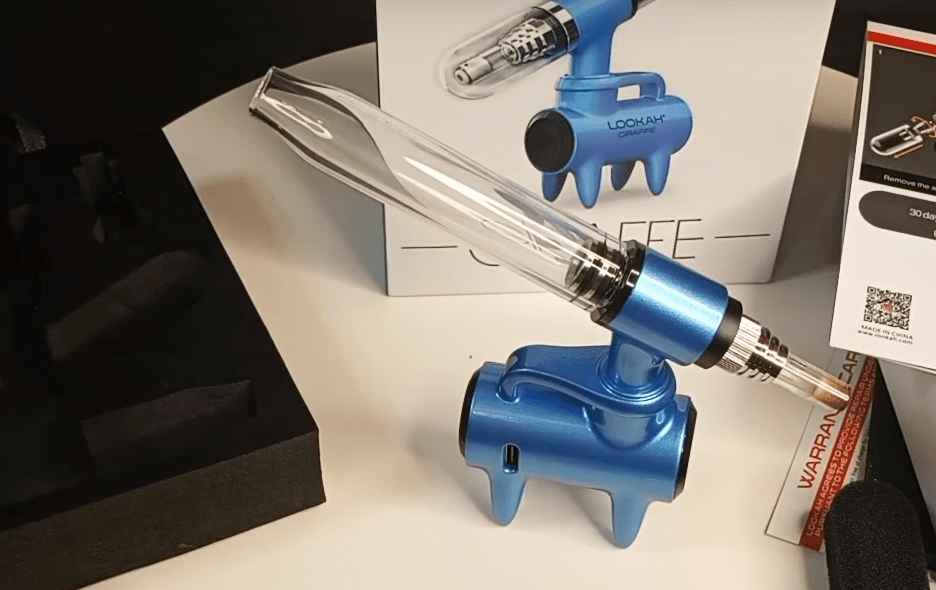 Unboxing and Design: The Lookah Giraffe arrives in an appealing box that showcases its features. The top part of the Giraffe resembles other Lookah devices, like the Seahorse, while the lower section boasts a unique and captivating appearance. It immediately caught my attention and made me eager to try it out. However, it's worth noting that the color options were limited during the initial release, and I opted for the blue Giraffe. I couldn't help but wonder if Lookah has plans for a future spotted version, similar to the markings of a real giraffe.
Features and Functionality: The Lookah Giraffe shares similarities with the Lookah Seahorse Pro Plus in terms of functionality. It comes with a pre-installed tip, making it effortless to assemble. The device is compatible with 510 threaded vape pen cartridges, offering versatility for different vaping preferences. One standout feature is the battery charge display, a convenient addition that provides real-time battery information. By eliminating the guesswork, Lookah ensures you never run out of power unexpectedly. The user manual provides comprehensive instructions, including how to power on/off, adjust voltage, and switch between session modes.
Performance and Usage: After a quick charging session, as indicated by the LED display, I was ready to experience the Lookah Giraffe firsthand. The device delivered impressive performance, offering satisfying hits similar to other Lookah products I've tried. The session mode allows you to adjust the temperature mid-session, catering to your personal preference or sharing with friends who have different temperature preferences. The stylish design of the Giraffe is sure to turn heads and become a conversation starter during social gatherings or smoking sessions.
Pros:
Distinctive and captivating design
Battery charge display for real-time battery monitoring
Effortless assembly and compatibility with 510 threaded vape pen cartridges
Adjustable temperature during sessions
High-quality performance and satisfying hits
Conclusion: The Lookah Giraffe is a remarkable addition to the Lookah collection, offering a unique and stylish design that sets it apart from other vaporizers. Priced at $59.99, it provides impressive performance and convenient features, such as the battery charge display. If you're looking to elevate your smoking sessions with a touch of flair, the Lookah Giraffe is a must-have. Lookah continues to impress with their innovative and visually appealing products, cementing their position as a leader in the vaporizer market.