Today, we are reviewing the Packwoods Roar disposable vape device, which offers an amazing vaping experience with its Nug Run concentrate and top-notch terpenes. Our reviewer, who is quite experienced in vaping, shares his thoughts on this product, from its taste and smoothness to its effects and overall performance.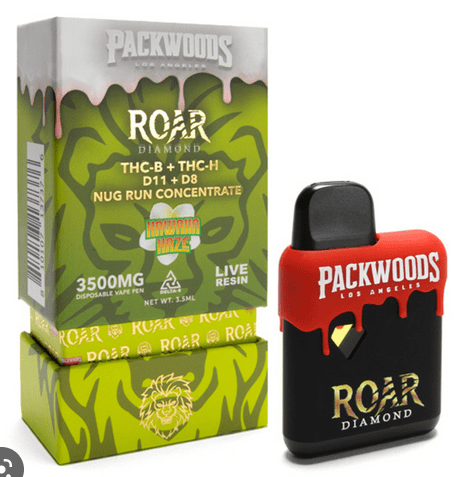 Specifications:
Brand: Roar Diamonds and Packwoods
Type: Disposable vape device
Concentrate: Nug Run, Live Resin
Blend: THCB, THCH, Delta 11, and Delta 8
Strain: Kobe OG
Capacity: 3.5 grams
Charging: USB-C
Accents: Gold button, silicone cover, diamond-shaped tank
Origin: Los Angeles
Selling Points:
Affordable and easily available online
Phenomenal taste and terpene profile
Lightweight and compact design
USB-C charging for convenience
Smooth and satisfying vaping experience
Pros:
Taste: The terpenes on this device are phenomenal, offering a 10/10 taste with a fruity berry flavor.
Smoothness: Unlike other devices, the Packwoods Roar doesn't feel heavy or scratchy on the lungs.
Airflow: The device has excellent airflow, which adds to the overall vaping experience.
Design: The sleek design, with a mix of textures and gold accents, adds to the device's aesthetic appeal.
Effects: The reviewer reports feeling quite high and satisfied after a few hits of this device.
Cons:
No COA (Certificate of Analysis) available for this specific product line yet, although the product was verified on the manufacturer's website.
Conclusion: The Packwoods Roar disposable vape device is an excellent choice for those who want a compact, flavorful, and potent vaping experience. With its phenomenal taste, smoothness, and impressive effects, it's definitely worth checking out. Keep in mind that the COA is not yet available for this specific line, but the product is verified on the manufacturer's website.
If you're interested in trying this device, visit the Roar Diamonds and Packwoods websites to learn more about their products. And if you've tried it already, feel free to share your experience in the comments below!