Today, we are going to discuss Puff Bar Disposable Vape Pen. As we know the Puff Bar Disposable Vape Pens are a type of vape that contain high levels of nicotine. Its comes with many flavors, learn more Puff Bar flavors on this article.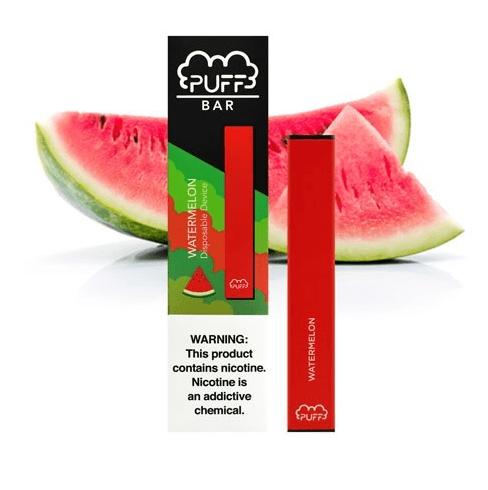 Puff Bar Disposable Vape Pen Package Includes:
1 x Puff Disposable Device
Puff Bar Disposable Vape Pen Features:
Disposable – Non-Rechargeable & Non-Refillable
2% and 5% Nicotine Salt Strength
Approximately 20 Cigarettes / Pack
300 Puffs Approx.
Draw-Activated Firing Mechanism
Integrated 280mAh Battery
1.3mL Juice Per Puff BAR
Comes in a pack of one (1)
What chemicals are in Puff Bar Disposable Vape Pen?
Each Puff Bar uses nicotine salts a formula that allows for much higher levels and efficient delivery of nicotine with less irritation compared to earlier generations of e-cigarettes. Nicotine strength can be as high as 5% in Puff Bars.
Are Puff Bar Disposable Vape Pen unhealthy?
Are Puff Bars Less Dangerous Compared to Cigarettes? If you looked into the bigger picture and compared these two ways of smoking, it is a fact that puff bars are less harmful compared to cigarettes. Most health experts find e-cigarettes like puff bars as an alternative and healthier way to smoke.
Puff Bar Disposable Vape Pen blinking Tourbleshooting
Your Puff Bar Battery is Low or Dead.
You'll know the battery has run low, though, once the blue light at the bottom of your Puff Bar starts blinking. The convenient but disposable nature of the device means that if the battery is out, it's time to start looking at new Puff Bar flavors to try!
Can you recharge Puff Bar Disposable Vape Pen?
All Puff Bar disposable devices require no maintenance, charging, or refilling. After your PUFF BAR runs out of juice and/or battery, simply buy a replacement.