There are so many disposable vape brands in the vaping market, puff bar disposable devices. Which one is best for you? If you are newbie, Ezzy Oval you can have a try. Ezzy Oval site: https://ezzyvape.com/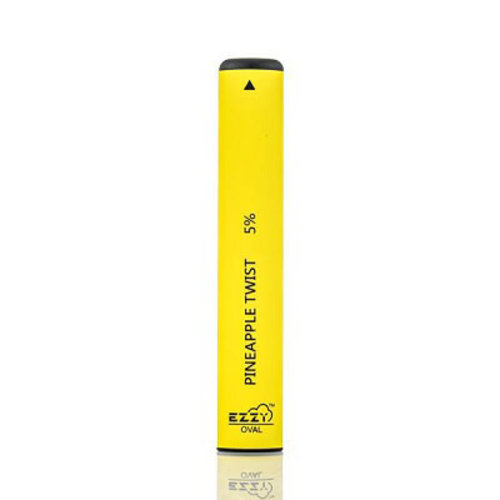 What's Ezzy Oval?
Similar to the Puff bar, the EZZY Oval Disposable Device is also a pre-filled disposable. It is a lightweight and compact design disposable pod system.
With no maintenance, refilling, or charging, the EZZY Oval gets thrown away once it's been fully used. After your EZZY runs out of juice and/or battery, simply buy a replacement.
Each EZZY OVAL comes with a pre-filled 5% (50mg) of E-juice that is enough to stay satisfied for the whole day.
EZZY Oval Review video by EverythingDank
EZZY Oval Review video by ChaseSmokes
Why pre-filled salt nic e-liquid in Ezzy Oval?
The Ezzy Oval is a Portable Pod Device designed with a pre-filled salt nic e-liquid and comes packaged as a disposable unit. This enables the user to enjoy a flavorful vape with zero up keep, only requiring a trip to the trash once the device has been used up. Each Ezzy Oval Disposable Device features an estimated 300 puffs, and has an internal 280mAh battery meant to be disposed of once the life cycle ends. The Ezzy Oval accommodates 1.3ml of Salt Nicotine E-Liquid with the nicotine level of 50mg. Each Ezzy Oval Disposable features with one (1) device per package and has a perfect mouth to lung draw.
Main Features:
Lightweight, Small and Portable
101mm by 17mm by 10mm
Internal Battery
1.3ml E-Liquid Capacity
Anti Leak Design
Salt Nic E-liquid: 1 disposable salt contains (5%) 50MG Salt Nic inside for an accurate cigarette-style throat hit Pre-filled, no need for messy refills.
Up to 300+ puffs per disposable, approximately equivalent to 40 cigarettes.
No Airflow: Fixed
Draw-Activated Mechanism
Compact & Portable Design
Battery: 280mAh

INCLUDES :
· 1 x Oval Disposable Device

Nineteen Flavors to Choose From
Icy Cola, Orange Soda, Mamba, Pomegranate Ice, Guava Ice, Pina Colada, Blue Razz, Kiwi Strawberry, Berry Cool, Honeydew Ice, Frozen Banana, Mango Lychee, Lush Ice, Lemon Mint, Caramel Popcorn, Lychee Ice, Vanilla Custard, Strawberry Lemonade, and Pineapple Twist.

Strawberry Lemonade – Tangy Meyer Lemons are juiced and combined with complementary muddled strawberries for a delightful contrast, enhanced with sugar to create a tall glass of refreshing strawberry lemonade.

Caramel Popcorn – Kettle-cooked popcorn is treated to a fine coating of sweet gooey caramel, blessing the freshly popped corn with a glassy glaze that will delight the taste buds with its sweet flavorful taste.

Vanilla Custard – Smooth creamy custard flavored with vanilla bean extract makes for a robust, yet soothing vaping that will have your taste buds diving into a bowl of sweet cream custard.

Mango Lychee – Complementary tropical fruits like mangos and lychees make a juicy appearance, lending their sweet mellow nectars, tantalizing the taste buds with every inhale and exhale of this magnificent mango-ey flavor.

Pomegranate ICE – Strong notes of tangy pomegranate fruit are enhanced with the addition of menthol, leading to gust of chilly revitalization bundled into an exquisitely delicious vape that will dazzle the taste buds.

Lemon Mint – Tangy Meyer Lemons lend a contrasting sweetly sour flavor that is augmented with the addition of refreshing mint, capturing the notes of mouth-puckering lemon to combine with the relaxing hint of mint.

Lychee ICE – Sweet exotic lychees are harvested, extracting the heavenly aroma and flavor, supplementing the fruity flavor with the addition of menthol to create a refreshing vape experience.

Lush ICE – A splash of summertime watermelon juiced with the addition of menthol to create a frigid, yet fruity vape flavor that will tantalize the tongue and it's taste buds.
Any question, please leave a comment below.