Are you looking for a battery that not only delivers exceptional performance but also adds a touch of luxury to your vaping experience? Look no further than the Hamilton Butterfly. With its smooth and reliable flipping action, this battery is designed to keep you entertained for hours while providing the functionality you need. Available in a range of stunning colors, the Butterfly is sure to make a statement wherever you go. Whether you're a righty or lefty, this battery is crafted to perform beautifully for you and your friends, making it a must-have addition to your collection.
Designed with Precision for CCELL® Cartridges and Beyond
The Hamilton Butterfly is engineered specifically for CCELL® cartridges, ensuring optimal compatibility and performance. However, its versatility doesn't end there. This battery also works seamlessly with most 510 thread cartridges, allowing you to enjoy a wide range of options without any hassle.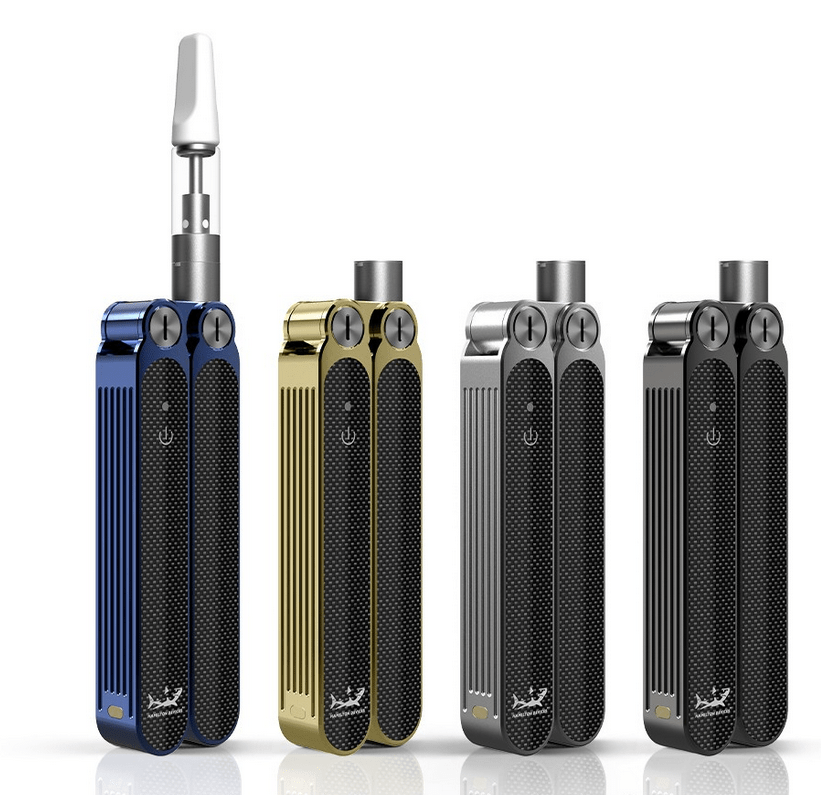 Let's dive into the details of this remarkable battery:
Button Activated and Ergonomically Designed
The Butterfly features a convenient button activation mechanism, allowing you to control your vaping experience with ease. Its ergonomic design ensures a comfortable grip, making it a pleasure to use for extended periods.
Crafted with Premium Materials
Constructed with a combination of Zinc Alloy and an anodized housing, the Butterfly boasts both durability and aesthetic appeal. The sleek finish exudes sophistication, adding a touch of elegance to your vaping sessions.
Adjustable Voltage for Personalized Experience
Tailor your vaping experience to your preferences with the Butterfly's adjustable voltage feature. Choose from three voltage settings: 3.2V (Blue), 3.4V (White), or 3.7V (Red). Whether you desire smoother flavors or denser vapor clouds, this battery has you covered.
Impressive Battery Capacity and Charging Efficiency
Equipped with a powerful 430mAh battery, the Butterfly ensures long-lasting performance for uninterrupted vaping pleasure. Charging is a breeze with the included Type-C charger, allowing you to quickly recharge your battery in just 1.5 hours. With a charging voltage/current of 5V/500mA, you'll be back to enjoying your vape in no time.
Sleek and Stylish Design Options
The Hamilton Butterfly comes in a range of captivating colors, including Blue, Black, Gold, and Graphite. Choose the one that resonates with your style and personality, and let your battery become a fashion statement.
Troubleshooting and Compatibility
While the Hamilton Butterfly is designed to provide a seamless vaping experience, troubleshooting common issues can be essential. If you encounter any problems, refer to the user manual for detailed instructions and troubleshooting tips. Remember, this battery is compatible with most 510 thread cartridges, ensuring versatility and ease of use.
Please note that the cartridge is not included with the Hamilton Butterfly. Be sure to select a compatible cartridge of your choice to complete your vaping setup.
Embrace the Flipping Action of the Hamilton Butterfly
With its sleek design, exceptional performance, and wide compatibility, the Hamilton Butterfly stands out as a remarkable battery option for vaping enthusiasts. Elevate your vaping experience to new heights and indulge in the perfect blend of style and functionality. Add the Hamilton Butterfly to your collection and discover the pleasure of seamless vaping enjoyment.