Lost Mary OS5000 Strawberry Ice Disposable Vape Review.
Features:
Flavor: Strawberry Ice
Nicotine strength: 50mg
E-liquid capacity: 5ml
Puffs per device: 5000
Battery capacity: 1000mAh
Draw-activated firing mechanism
Compact and portable design
Nicotine salt formula for smoother throat hits
Suitable for vapers of all levels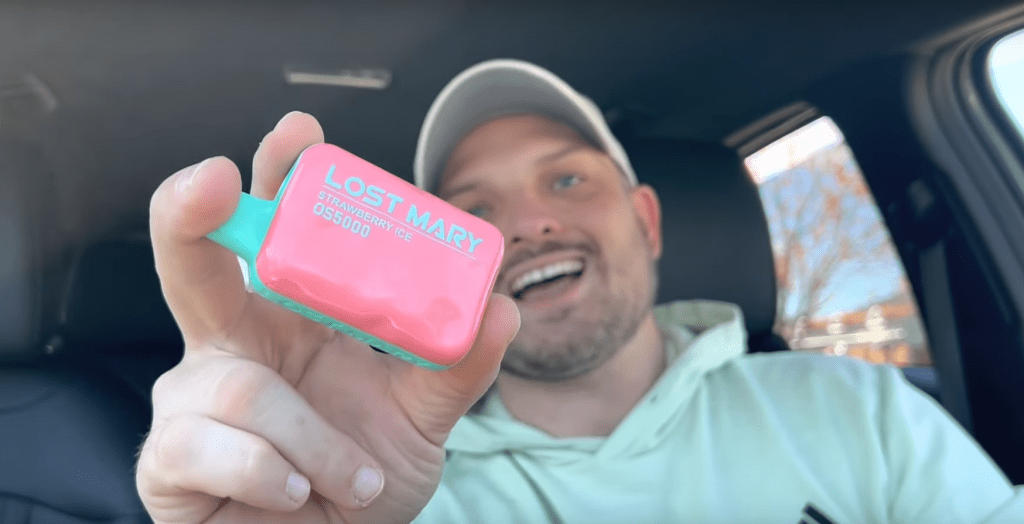 These specifications make the Lost Mary OS5000 Strawberry Ice Disposable Vape a great option for those who are looking for a portable and convenient device with a long-lasting battery life and a smooth vaping experience. The 50mg nicotine strength and 5ml e-liquid capacity ensure that you'll have plenty of puffs to enjoy your favorite flavor, while the draw-activated firing mechanism makes it easy to use. Plus, the compact and sleek design makes it easy to carry around wherever you go.
If you're a fan of disposable vapes and enjoy fruity flavors, then Lost Mary's OS5000 Strawberry Ice Disposable Vape might be worth checking out. As someone who has tried numerous flavors from Lost Mary's lineup, I was eager to see if their Strawberry Ice flavor would stand out from the rest. Here's what I thought of it:
Firstly, the packaging is eye-catching and has a lovely color scheme that is sure to appeal to many. The device promises around 5000 puffs, which is standard for disposable vapes. However, I found that the pull on this device is a bit tight, which is not my preferred style. It doesn't offer much of a throat hit, which may not be everyone's cup of tea.
Onto the flavor itself – I have to say, I was pleasantly surprised. The first puff I took gave me a unique taste that was hard to pinpoint at first. It's not your typical candy-like strawberry flavor. Rather, it's more natural and ripe, like a strawberry milkshake with a subtle creaminess to it. The ice flavor complements the strawberry well and gives it a balanced and refreshing feel. It's more on the dessert side of flavors rather than fruity, which is something to keep in mind if you're looking for a more tangy flavor.
I found myself hitting the device multiple times just to get the right words to describe the flavor, and it was not an easy task. The ripe strawberry taste and the icy cream mixed so well together that it's hard to separate them. The flavor is not overpowering, and it does not leave any artificial aftertaste, which is always a plus.
Overall, I was impressed with Lost Mary's Strawberry Ice Disposable Vape. It may not offer the strongest throat hit, but the flavor is unique and refreshing. If you're a fan of dessert-like flavors, this one is definitely worth giving a try. The device is also very portable and easy to use, making it a great option for on-the-go vaping. I would rate this flavor an 8.8 out of 10, making it one of my top choices from Lost Mary's lineup after their Juicy Peach flavor.
In conclusion, I would recommend Lost Mary OS5000 Strawberry Ice Disposable Vape to anyone looking for a flavorful and refreshing dessert-like vape. It's definitely worth giving it a try, and it might just become your new favorite.