What's the most compact size vape mod? Read on and find out why this Yocan compact size vape device featured regulated output. Let's have a look Yocan Kodo. Any question about vape mod or this item, please do not hesitate to drop us a comment.
What's Yocan Kodo pod mod?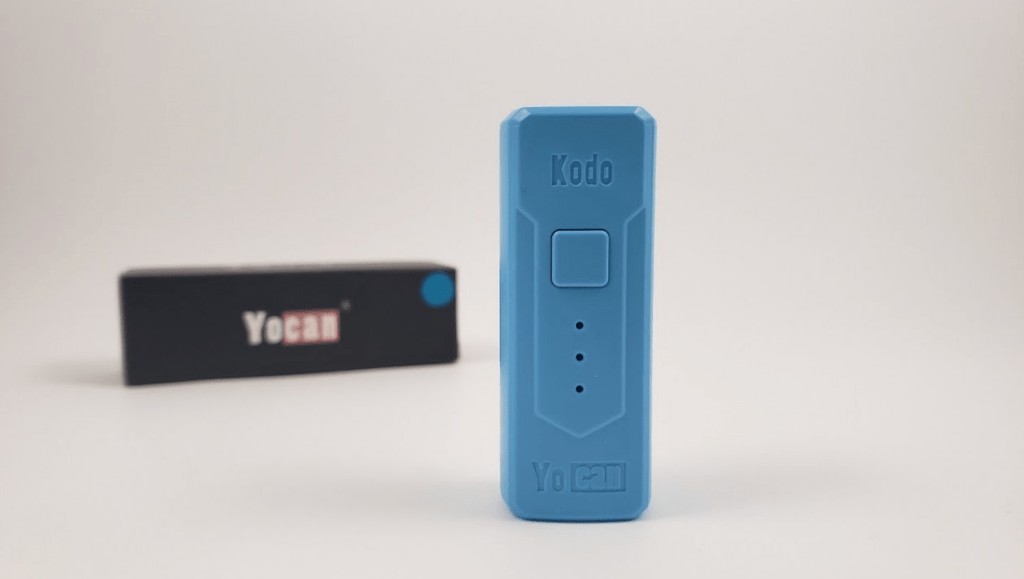 Battery
The Yocan Kodo pod mod features 400mAh battery capacity. The Kodo mod vape takes 30-40 minutes to fully charge the device.
Functional Adjustable Voltage Option
The Yocan Kodo pod mod has preset 3 different voltage levels, the 3 LED lights to indicate the voltage level. The Yocan Kodo voltage settings are 2.5V, 3.0V, and 3.5V. To increase or decrease the level by clicking the power button 3 times. When you set higher voltage, you will get stronger hits, and the Kodo battery runs faster than low voltage. If you want to get smoother vape and long lifespan, the 2.5V voltage level is recommended for most newbies.
Main Feature:
Three voltage options
On/Off: 5 Clicks Within 2 seconds
Change Voltage: 3 Quick Clicks
Preheat On/Off: 2 Quick Clicks
400mAh battery
Portable and compact design: convenient to carry
The 10-second automatic shutdown function helps save power
Can be fully charged in 30-40 minutes
Learn more Yocan Kodo features, please visit Yocan official site Yocan.com
Kodo Packaging and contents
The package box of Yocan Kodo is simple, a small carboard box with no other comtents.

The mod comes packed in a nothing but a small cardboard box with no other contents besides the mod. It does come in a little zip-lock bag but aside from that it's just the mod in a simple box.

The kodo mod:
Kodo in case you were wondering is a Japanese word with dual meaning and can refer to either a heartbeat or a child of the drum.
The Kodo mod is absolutely tiny. Yocan refers to it as palm sized but I got to say it can probably be considered smaller than that. It's smaller than a chap stick and as a standalone mod it's probably the smallest personal electronic nicotine inhalation system that I've ever handled. It's rectangular in shape and mostly made of plastic but the edges are all tapered to make it nice and comfortable to hold and squeeze. At the top it comes with a pretty standard looking 510 connection. It looks like it uses stainless steel for the threads and it has what looks to be a gold plated spring loaded 510 positive pin. Because of the meager dimensions of the mod it can only accommodate atomizers up to 17mm without any overhang and anything beyond that might look a bit odd. Most concentrate atomizers are well within this range but there are also quite few standard atomizers that will also match up nicely with this device. I've personally been rocking it with a 16mm Dvarw RTA and it's been a pocket friendly match made in heaven. Also at the top next to the 510 is a lanyard hole in case you wanted to attach it to a lanyard. Not something I tend to use but it's there.
Working down the face of the mod it's got a bit of stamped in branding with Kodo at the top and Yocan at the bottom with a fire button and three indicator lights in between. The button is squared off and easy to find and fire with a nice click to it and zero rattles of any sort. The three indicator lights are to indicate the power level, any status alerts as well as remaining battery life. On the very bottom of the device is the micro USB port for charging the internal 400mAh battery. It charges at a rate of 0.7A and a full top up only takes about 30 minutes. Yes, it's a pretty small capacity but this device isn't meant for all day vaping. It's going to be more for quick trips and stealth vaping when discretion is key. It does, however, support pass-through vaping so you can vape on it while it charges.
Usage and Performance:
Now despite being incredibly tiny this little device still packs in some impressive features. I believe it uses one of Yocans proprietary chips to power it which has a number of handy features many vapers will appreciate. It uses the usual five clicks to turn it on and off and with two clicks it activates a 10 seconds pre-heat feature mainly intended for concentrates and wax. Another two clicks shut it off if you don't need the full 10 seconds. With three clicks of the fire button, it switches between three different power levels. They don't specify the exact output but they're listed as low, medium and high. I've mainly been using it on the high setting with an RTA and a basic 1.2ohm kanthal round wire coil. With it's limited battery capacity it's not going to last all day but for a quick trip to the grocery store or a night out it's usually more than enough to get me through. Also being such a low power device, what you match it will also impact battery life and performance so if you pick one up make sure to match it with an appropriate atomizer.
Overall:
Like I said, I'm all about keeping things compact so the size and functionality of the Kodo really appeals to me. I'm sure this one won't be for everyone but folks who enjoy the other side of vaping will likely appreciate it's many features while more traditional vapers may appreciate it's compact size and regulated output. Depending on what it's paired with you really won't get more than an hour or two out of it but as I said it's not meant for all day vaping and is really more about keeping things discrete. Source: thevapereview