What is Leaf Buddi TH-420?
The TH-420 is one of the pod mods from Leaf Buddi, equipped with a 650mAh rechargeable battery and via a micro USB port for charging. It's a nice portable mini box mod for oil cartridges, one single button to activate the device.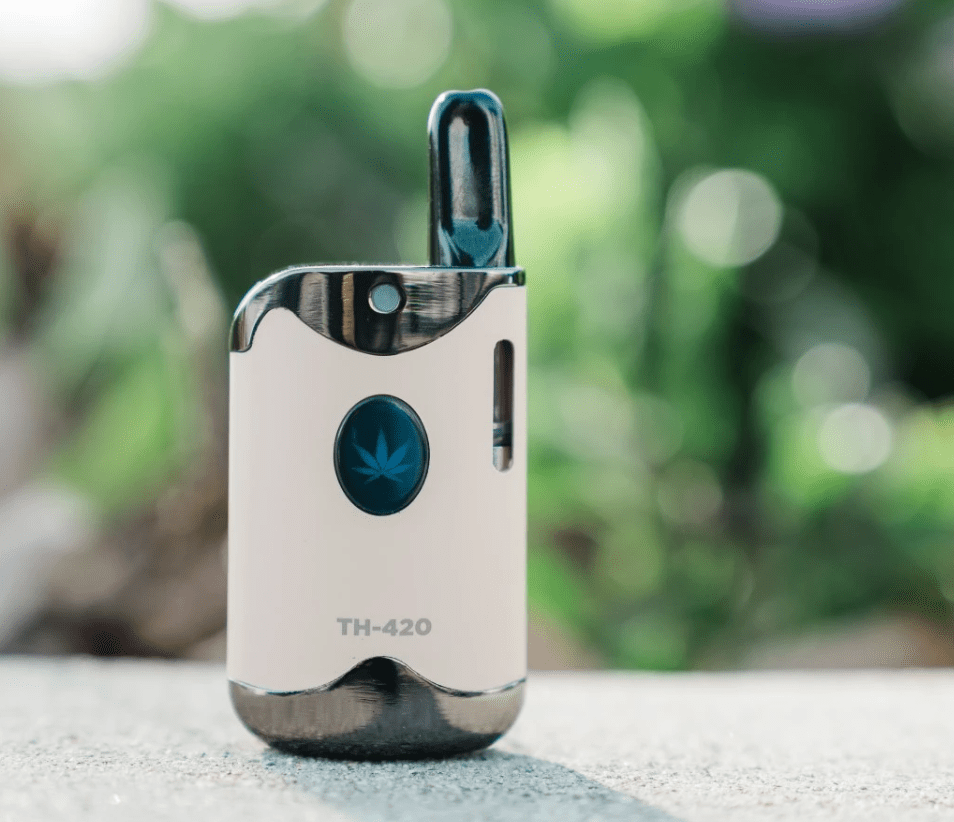 The Leaf Buddi TH-420 is super convenient and effortless to use. It's designed with variable voltage levels, customize all you vaping needs. One of a magnetic adapter comes with the package box, allow you install most 510 oil cartrige on this device.
How to use Leaf Buddi TH-420?
#1 Charged the device
First of off, make sure your device is charged, and the first time full charged maybe need to about one hour. Once you get the Leaf Buddi TH-420, please plug the micro USB cable charge your device.
The center button will also act as a Battery Power Indicator
70% – 100% Power = White Light
40% – 70% Power = Blue Light
0% – 40% Power = Red Light
#2 Loaded the Oil Cartridge
This device don't comes with the oil cartridge, so you have choose one oil cartridge on the vape market. Please load the oil in to cartridge.
#3 Screw the cartridge onto the magnetic connector included in the kit
#4 Insert the cartridge with the attached connector into the heating chamber of the box mod
#5 To turn your battery ON
#6 Hold down the operation button and inhale
How to change the vaping voltage?
Press the center operation button rapidly 3 times to change the power (Variable Voltage) settings. You will see the LED Button change color depending on the power setting you desire. (As you are firing, LED light will light up that particular color to let you know what power setting you're on)
Variable Voltage Settings: Red (3.4V), Blue (3.7V), White (4.0V)
To use the Preheat function, simply hit the button 2 times rapidly, the LED button will light up and start preheating the coil for you. (Once it finished Preheating the LED light will turn off, meaning Preheating is complete and you are ready to go)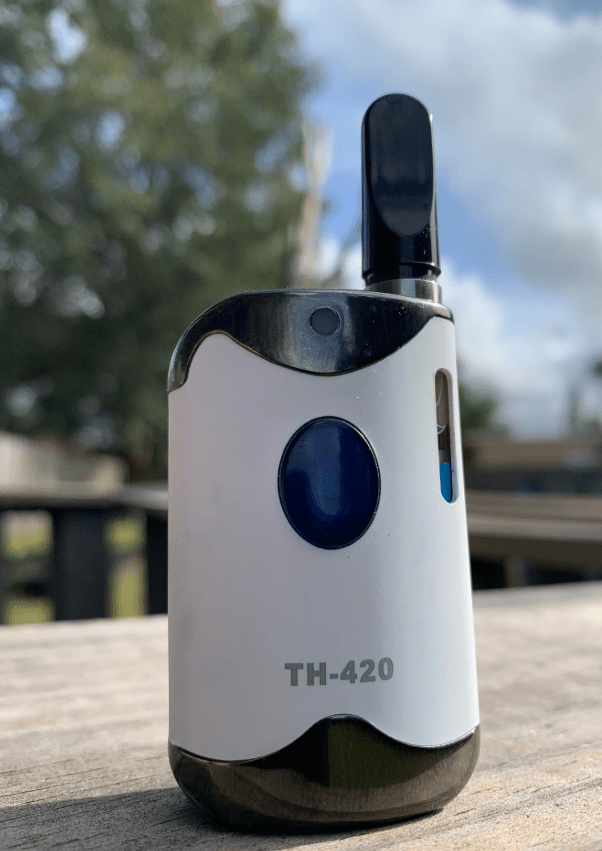 Leaf Buddi TH-420 Vape Trick and Troubleshooting

When should you charge your device?
If you are pressing the center operation button and nothing is happening, please make sure the device is turned ON by pressing the button 5 rapidly
If the LED button starts blinking 5 or more times, when you are trying to use the device, this means that the battery is out of power and needs to be recharged
How to fix no vapor while hit the fire button?
If you are trying to vape and the battery seem to be working but no vapor is coming out of the cartridge, try unscrewing the cartridge from the magnetic connector and screwing in back on again (to ensure that there is a contact between the connector and cartridge)
How to fix the blinks light?

If the problem persists it means that you are not getting a connection between vaporizer and cartridge or it could either be a faulty cartridge or there is a problem with your vaporizer battery (faulty vaporizer)
Other issues may indicate you have a faulty cartridge or a faulty vaporizer battery. At this point you should contact the manufacturer directly or simply purchase a new device
Make sure the connecting surfaces on both the vaporizer chamber and cartridge are clean and free from debris. (There needs to be a solid connection between the metal part of the cartridge and metal part in the battery chamber so they can conduct an electrical charge)
If possible, you may also want to test your cartridge on another device to make sure it is not causing the issue

Features:
Convenient and effortless to use
Great battery life
Variable voltage (VV)
Cartridge Visibility Window
Heat Dissipation Holes
Dimensions: 57mm x 35mm x 21mm
Weight: 50g (grams)
Heating Chamber Diameter: 11mm
0.5ml Ceramic CCell Cartridge
Magnetic 510 Connector
Thread: 510 Thread Compatible
Material: Lightweight Aluminum Alloy
Battery: Internal Long-lasting 650mAh Battery (built-in)
Puffs per Full Charge: 400 – 500 Puffs
Battery Voltage: 3.2V – 4.2V (at full charge)
3 Level Variable Voltages: 3.4V – 3.7V – 4.0V (3 Clicks to Change Voltage Setting)
Preheat Functionality
Charge Port: Micro USB Cable
Charge Time: 30 – 60 Minutes
Easy Operation: Push Button to Activate
LED Battery Life Indicator

Safety Features:
Low voltage protection
Short circuit protection
Battery protections indicators: Low Voltage – 5 consecutive blinks (Needs to recharge)

Available Colors: Black, Gray, Red, Blue, and Gold

If you want to learn more Leaf Buddi TH-420 information, please comment below. Vape on.