Quick links:
What is Puff Flow ?
Puff Flow is the latest disposable device from PuffBar brand. It's upgrade of previous versions Puff bar or Puff Plus, each Puff Flow device has 1000 puffs. This means you can vaping it whole day, even you are heavy user.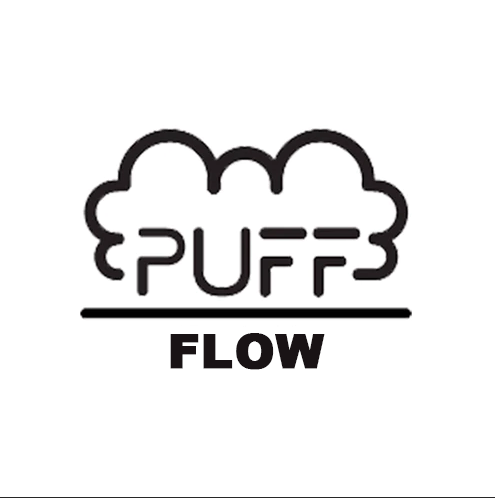 Main Features:
1000+ puff each Puff Flow disposable device
Airflow control function
8 flovor options
5% (50mg) of salt nic
Refilled Flavor: All Flavors Available
Disposable, non-rechargeable & non-refillable
All-in-one system
Draw activated firing mechanism
Juice Capacity:4.0ml
Battery Capacity: 600mAh
Approximately equivalent to 70 real cigarettes per vape
Color: Same as pictures
Reference Resistance: 1.6 ohm
Product Name: Puff Flow Disposable Vape
Adjustable Airflow Control
The biggest feature of Puff Flow is airflow custimize adn control their airflow via a switch. You can screw (or unscrew) the bottom of Puff Flow to adjust airflow. It's awesome device for those restrict MTL vapers, and also friendly with big cloud lovers.
Multiple flavors
There are 8 flavors avaliable at this time. I think will be released more Puff Flow flavors in near future.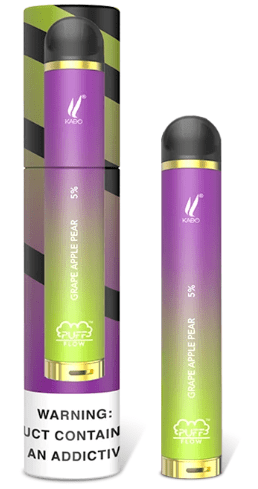 Puff Bar Flow Flavors
Where the Puff Bar Plus treads familiar ground with flavors found also in the Puff Bar, the Puff Flow has a whole lineup of new and unique fruit flavors. These are exactly the types of flavors that adults were shown to prefer in Dr. Farsalino's extensive research into the vaping preferences of adults and former smokers.
Papaya Banana Puff Flow

Papaya Banana Puff Bar Flow is a tropical flavor with intricate balance. The creamy notes of fresh sliced banana merge with the sharp and sweet punch of papaya.
Strawberry Banana Puff Flow

Strawberry Banana Puff Bar Flow is a limited time flavor but it is also a timeless combination. The tartness of the sweet strawberry is matched well with a creamy and sweet banana. An all-day vape flavor for a disposable that should last you well over a day.
Aloe Mango Melon Ice Puff Flow

Aloe is not just for sunburn anymore and may soon be one of the hottest flavors in vaping. This flavor is far removed from the green slop that you slathering on sun-seared flesh. The aloe flavor is lightly sweet, cool and slightly acidic. It is layered on top of a classic blend of mango, melon and ice. The Aloe Mango Melon Ice Puff Bar Flow is a fantastic and memorable flavor.
Guava Ice Puff Flow

Bright and delicious guava mixed with an icy blend of menthol is exactly the type of flavor combination that adult vapers prefer. Guava Ice Puff Bar Flow has a great smooth flavor that you will enjoy all day. taste is easy to enjoy all day.
Peach Ice Puff Flow

Peach Ice Puff Bar Flow is drips with nectary and authentic peach flavor. But it is never too sugary because of a stunning and frigid layer of menthol ice.
Lychee Ice Puff Flow

Lychee Ice is one of the most popular flavors with adult nic salt vapers. The Lychee Ice Puff Bar Flow delivers the precise balance of tropical lychee goodness and frozen menthol that adult fans of disposable vapes are looking for. You may get the same great Puff Bar flavor but there is a lot more of it. 4ml versus 1.3ml to be exact. And the adjustable air flow allows you to customize each hit on this autodraw disposable. Lychee Ice Puff Flow is one of the best Lychee Ice disposable vapes.
Kiwi Strawberry Puff Flow

Kiwi Strawberry Puff Bar Flow is so delicious you will want to vape it all day. But with a nic strength of 5 percent, it delivers a satisfying performance that will appeal to ex-smokers looking to make the switch and adult nic salt vapers. The sweet kiwi adds complex elements that eliminate the need for a menthol ice blast. The strawberry has plenty of tartness and sweetness. And this is much more than just an all-day vape.
Grape Apple Pear Puff Flow

Grape Apple Pear Puff Bar Flow boasts a trifecta of perfect fruit flavors that simply flow together to create a delicious and balanced nic salt. This buoyant fruit nic salt possesses exactly the sort of bright and complex notes that adult vapers prefer, can be enjoyed easily with autodraw activation. The Puff Flow is a truly premium disposable vape and even has adjustable airflow.
The flavor of the Puff Flow is printed on the front of the packaging, and the color of the PUFF Flow also indicates flavor. Each PUFF Flow disposable device comes with a pre-filled 5% (50mg) of salt nic that is enough to stay satisfied for the whole day.
Puff Flow changed the game of disposable vape industry, it features with the function of bottom airflow adjustable, which will make it possible that vaper can enjoy the different vaping experience, especially the airflow, when vaping the same device, producing vary taste feelings.
It got a bigger and wider body and bigger battery capacity, and also more liquid capacity than puff bar, it's one of the most popular disposable vapes in our white label line.
This Puff Flow encapsulated with a 600mAh battery, it carries a 5% nicotine salt strength, and it produces approximately 1000 puffs per piece, holding a 4.0ml capacity high-grade pure taste nicotine salt juice.
As the most popular style of disposable vapes in this market, this item meets all your portable and convenient needs for vaping a device that may be better than Juul. You can enjoy it with much love from every puff of this device.
This is a puff flow, a perfect alternative of smoking a real cigarette. And it's portable, convenient to use, because it's not only light but also constructed in a way to make it pocket – friendly for your day-to-day travels. What's more, the most amazing part of it is the variety of fantastic flavors choices. As a result, this pod produces pure strong and intoxicating vapor and flavors that you will fall in love with it once you have your first puff.
If you have any question, please comment bleow.