Most of vapers will recommend the quality and reliable brand items to friends. The Scar P3 Pod Mod Kit is latest vaporizre from Smok Tech.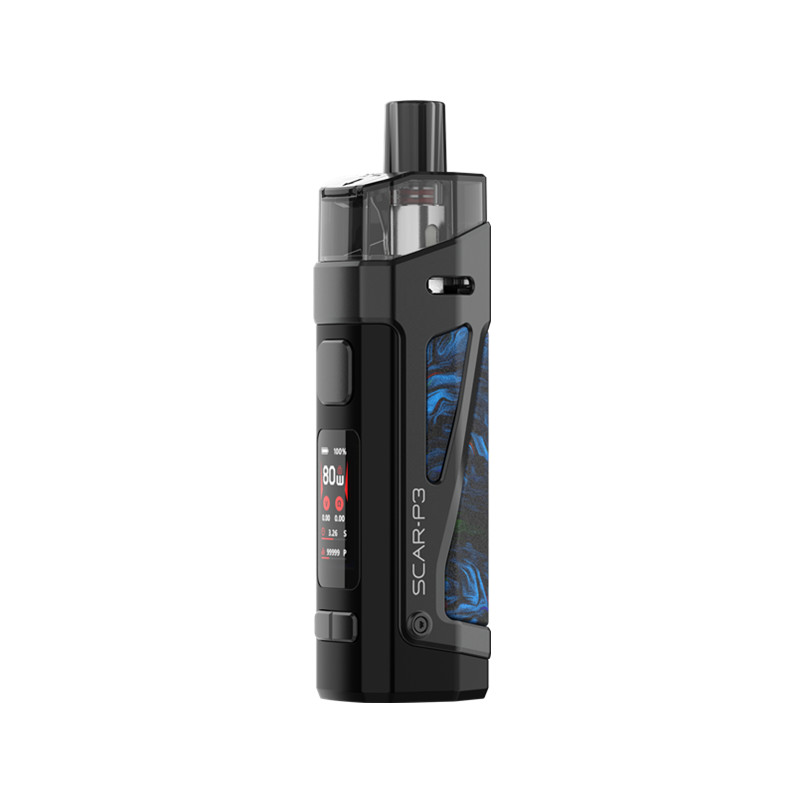 As we know, there are many great waterproof vape kits in 2020 market. The GEEKVAPE item is a good example, waterproof vape is the impressive feature. At this time, the SMOK Scar is a new and stronger member to join this part market. Read on to discover will SMOK Scar be the Best Waterproof Vape Mods 2020?
We know that there are lots of great waterproof vape kits from GEEKVAPE, and that's kind of the impressive freatures from lots of GEEKVAPE kits, now we got new and stronger member to join this part in market.
What's SMOK Scar P3?
This device integrates 2000mAh built-in battery, has Type-C fast charging, newly designed metal and leather shell, supports waterproof. SMOK SCAR P3 pod kit features IQ-80 chipset for enhanced performance and outstanding efficiency and 0.96 inch TFT screen to show vaping data clearly.
IP67 Waterproof & Dustproof & Shockproof
SCAR-P3 and SCAR-P5 are IP67 waterproof that can withstand water immersion between 15 cm and 1 meter for 30 minutes.
And they are also dustproof (IP67) and shockproof to prevent dust ingress and accidental drop.
Main Features:
0.96-inch Screen
Built-in 2000mAh
5-80W Adjustable Power
Leather and Zinc Alloy Frame
IP67 Waterproof, Dustproof and Shock-resistant
SMOK Scar P3 vs SMOK Scar P5
SMOK SCAR P3's appearance is very similar to SMOK RPM80. SMOK SCAR P5 Pod Mod is an updated version of SMOK SCAR P3, the relationship just like SMOK RPM80 and SMOK RPM80 Pro.
Battery: The biggest difference is battery size, SMOK Scar P3 is come with built-in 2000mAh battery with 5-80W output wattage and Type-C 5V/1.1A for fast charging.
The SMOK Scar P5 is powered by a replaceable single 18650 battery with 5-80W output wattage and Type-C 5V/1.3A for fast charging to provides long-lasting power for the entire device. The battery cap is push-pull for easier battery replacement.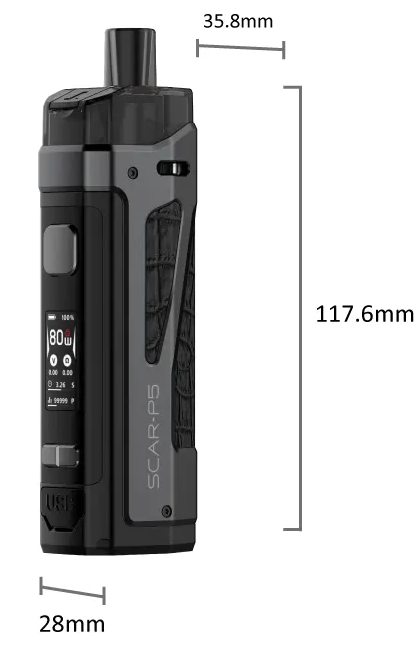 Parameters: The parameters of these two kits almost the same except the height, Scar P5 is higher than the Scar P3.
E-juice capacity: There is a subtle difference between those 2 pod kits, Scar P3 got 5.5ml capacity and for Scar P5, it come with 5ml capacity. (For TPD UK version, both of them are got 2ml capacity.)
Come with 2 pods and 2 mesh coils
Dual-channel direct airflow
The air entering from both sides of the top forms a two-way vertical airflow channel without airflow loss, providing flawless flavor and effortless vapor production.
SMOK Scar P5 Pod Kit
What You Can Get From Scar P3?
1 x Scar P3 Device
1 x Scar P3 RPM 2 Pod 5.5ml
(RPM 2 Mesh 0.16Ω Coil Pre-installed)
1 x Scar P3 RPM Pod 5.5ml
(RPM Mesh 0.4Ω Coil Pre-installed)
1 x USB Cable
1 x User Manual
Physical Parameter:
Size: 110 x 32.3 x 27mm
Capacity: 5.5ml
Battery: 2000mAh
Output Wattage: 5-80W
Resistance: 0.16Ω/0.4Ω
Color: Black, Fluid Black White, Red Stabilizing Wood, Fluid Blue, Green Stabilizing Wood, Fluid Red, Fluid Gold , Fluid 7-Color
SMOK Scar P5 Pod Kit
What You Can Get From Scar P3?
1 x Scar P5 Device
1 x Scar P5 RPM 2 Pod 5.5ml
(RPM 2 Mesh 0.16Ω Coil Pre-installed)
1 x Scar P5 RPM Pod 5.5ml
(RPM Mesh 0.4Ω Coil Pre-installed)
1 x USB Cable
1 x User Manual
Physical Parameter:
Size: 117.6 x 35.8 x 28mm
Capacity: 5ml
Battery: 1 x 18650 (Not Included)
Output Wattage: 5-80W
Resistance Range:0.15Ω-2.5Ω
Color: Black, Fluid Black White, Fluid Red, Fluid Blue, Fluid Green, Prism Rainbow, Fluid 7-Color, Red Stabilizing Wood, Green Stabilizing Wood, Fluid Gold