Yocan X is a fairly standard high capacity vaporizer pen
Yocan X is the latest vaporizer from Yocan Tech, which is a leading concentrate vaporizer MFG company since 2013. Yocan X vaporizer pen packs a punch, giving you some seriously milky hits. If you're in the market for the Yocan X vaporizer pen for sale, you probably have some questions as to whether this unit is right for you. Read on to discover its strengths, weaknesses, and for our thoughts on the Yocan X vaporizer pen.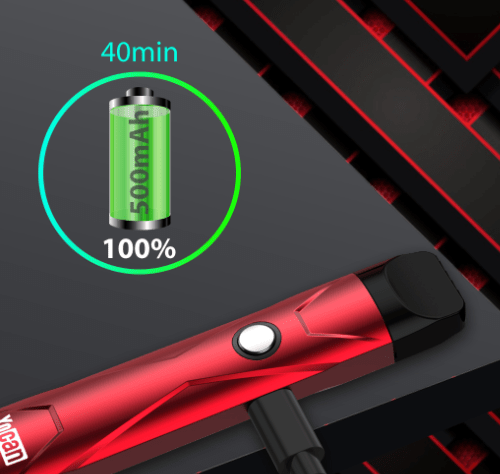 Main Feature:
Powerful and Compact
Thick, Milky Clouds
Easy to Load and Operate
Durable and Rugged, Built to Last
Solid Battery Life for all day vaping
Rechargeable 500mAh battery
Compact And Portable: 96.3 X 20.02 X 15mm
Magnetic Connection
10 Sec Preheating Function
3 Voltage Levels: 3.4v / 3.8v / 4.2v
QDC Technology ( Quartz Dual Coil)
Leak-proof design airflow
Produces Top Quality Vapor
USB-C Charging
Short-Circuit Protection
Low Voltage Protection
Yocan X Featured 3 Voltage Levels: 3.4V, 3.8V, 4.2V
The Yocan X cool feature is three preset voltage setting. The functional adjustable voltage option with 3 preset power levels.
The lower voltage setting is 3.4V, offers amazing flavorful vapor that are easy on the lungs. The higher preset voltage levels, like 3.8v or 4.2v options, also you go the more robust the vapor clouds. Between the 3 preset functional adjustable voltage you are sure to find the one that works best for you.
How to Use Yocan X?
The Yocan X is easy to use vaporizer pen. Operating this vaporizer pen is a no-brainer.
Turn on. You just need to hit the fire button 5 times in a row to turn it on/off. This step is similar with most concentrate vape pens.
Once the Yocan X is turn on, 3 clicks the fire button will put the device to toggle through the 3 different voltage settings.
One thing that stood out to us that Yocan X is how easy it was to load concentrate in the chamber. The concentrate cartridge design allow you quickly load your material into the cartridge without the hassle that other wax pens present.
Yocan X Has 10 Sec Preheat Function
Hit the fire button 2 times in a row will put the device in preheat mode. The preheat mode will last 10 sec with 1.8V voltage. If you want to deactivate, simply press the fire button 2 times again.
How to vaping?
Yocan X is designed very easy to use. it has one button and it's quite intuitive. Hit the fire button 3 times in a row through the different temperature setting. And heat the coil up by holding the fire button.