There are many vape brands on the vaping market 2020, and brings more and more devices. Most of vapers would like to choose latest vaporizer, or latest version. The Yocan UNI Pro new colors is coming. Read on and find out is this version worth to upgrade?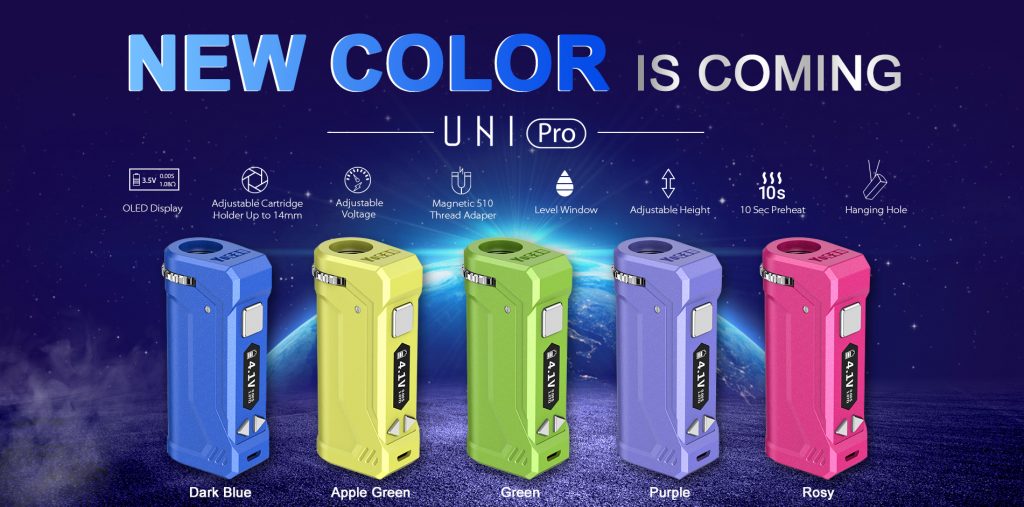 Article Quick Links:
Yocan UNI Pro Pros and Cons
Pros:
OLED Display Screen
New Color option
10s preheating mode
Well built.
Lightweight.
Compact.
Feels good in the hand.
Conceals cartridge inside the mod.
Adjustable 510-platform to accommodate shorter or taller carts.
Adjustable collar to remove wiggle room of cart.
650 mAh battery will last a long time.
Dimensions: 75.5 x 36.5 x 25.7mm
Voltage range: 2.0-4.2V
Cons
Plastic Chassis
Here we go to learn more detail about the Yocan UNI Pro New Colors.
Upgraded design of Yocan UNI
The Yocan UNI Pro takes all the best things about the UNI and enhances them. It is a newly updated design of the previous version Yocan UNI, improving it with a adjustable voltage based output, 10s preheating, and comes with new precise voltage and an OLED screen.
Yocan UNI Pro takes the patented adjustable port design of the original UNI 650mAh Cartridge Battery and incorporates a bright OLED display screen. The Yocan UNI Pro is a Box Mod that features universal compatibility with all oil cartridges.
Good price and a good device.
Consider it's price, and the quality is not bad, very lightweight and compact device.
NEW COLORS of Yocan UNI Pro Released! ⠀
Five new colors here, available in Dark Blue, Apple Green, Green, Purple, Rosy, more choices for you! Let us know your preference below!
About a year back Yocan Tech released the Yocan Uni, a device which can universally fit most atomizers up to 14mm diameter. It was a simple device but it worked well with some handy features built-in.
Yocan UNI Pro is a upgraded version of Yocan UNI. Engineering team have given to user a bit more control and design an OLED screen. This device also comes with some slightly more advanced regulated features.
The kit comes packed in a nice carboard box with an image of the device on the front and a listing of the contents and some basic info on the back. In the kit you get the Yocan Uni Pro box mod, a user manual, a micro USB cable for charging and a magnetic 510 ring. A very modestly packed kit that assumes you'll provide the atomizers.
The mod:
As mentioned the mod is an update to their previously launched Uni device which to be fair is nearly identical but with a few new handy updates. The Uni Pro now sports a black and white OLED screen which displays the remaining battery, the current voltage, fire time and resistance. It still has their patented universal height adjustment slider as well as their adjustable diameter dial so the device can accommodate nearly any atomizer up to 14mm in diameter and nearly any height. It mainly works with wax and concentrate atomizers but it should also fit some standard atomizers like the original kayfun mini, the GS Air 2 14mm tank and a few others so long as they are 14mm in diameter or smaller. It comes with a magnetic 510 ring that attaches to your atomizer which then magnetically connects the atomizer to the device. Adjust the device to the height and diameter of your tank and you're pretty much all set.
Working from top to bottom there's a hole at the top of the device where you attach the atomizer, as mentioned there's a dial just below it which can be turned to dial in the exact diameter of your atomizer. It uses a camera aperture sort of motion and does a pretty good job of eliminating any rattle between the device and the atomizer. Still on the back towards the bottom is the universal height adjustment. It lets you set the height of the exposed atomizer so if you're using a shorter one you can raise it up or lower it if your atomizer is a longer one. There's also a little window cutout so you can see how much liquid remains in your atomizer but I noticed with shorter atomizers it's pretty much useless. One thing I should mention is if any liquid builds up on the magnetic 510 base on the mod, because it's situated so deep inside the device it can be a challenge to clean it out. The mod is mostly made of plastic so it doesn't exactly scream quality but it also doesn't feel cheap in the hand either and the build quality overall is decent.
On the working face of the device is the squared off fire button, the black and white OLED screen as well as the up/down adjustment buttons. There's a bit of rattle to the device but it's not coming from the buttons and as soon as you insert an atomizer and adjust the diameter and height it seems to go away. At the very bottom of the working face is a micro USB port for charging which it does at a rate of 5V/0.8A. It only has a 650mAh internal battery which is a bit limiting but considering it's such a low power device it tends to last a long time. It will of course depend on what you've got the voltage set to and how much you actually vape.
Features and Performance:
The device uses a similar chip to previous Yocan releases. It's a simple chip but it does include some useful features. It will allow you to set the voltage from 2-4.2V using the adjustment buttons and still includes the same 10 second pre-heat the last model had by pressing the fire button twice. Another two clicks will shut it off if you don't need the full 10 seconds. Of course it uses the usual five clicks to turn it on and off and also includes all the usual built-in protections like a 15s cutoff, no-load, low battery and short circuit protection so the device should remain safe in nearly any circumstance. Performance will ultimately depend on what you are using it with and what you've got the voltage set to but with a 1.8ohm atomizer attached I tend to get nearly a full day out of it before needing a top up. I do notice that the resistance reading can often be off by about 0.2ohms which I imagine is on account of the magnetic connection it uses but so far it hasn't caused any real issues.
Overall:
I really don't have much to complain about with the Uni Pro. It's a handy little device that delivers what it promises. It's universal height and diameter adjustment means it can be used with a wide variety of atomizers. I realize it will mainly be for folks who enjoy concentrates but it can absolutely be used with traditional e-liquid atomizers as well, so long as you can find one that fits.
Reference: